Bees are very important in our food chain and that's why today there is a lot of attention for the industrious peoples. We sometimes do not realize it, but thanks to their efforts we have many different food products. About 30% of our daily food needs depend on bees. Without bees, no apples, pears or prunes, no walnuts or almonds and no courgettes and peppers. We can also forget our daily cup of coffee.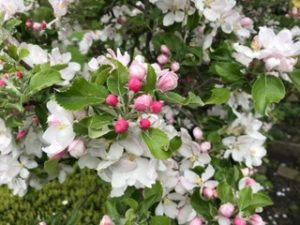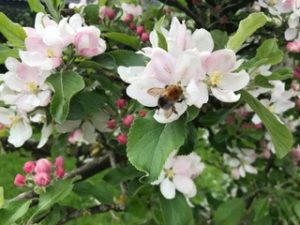 The bees are having a hard time. Many wild bees disappear, which is a major problem for the pollination of plants and crops. To help the bees we can put plants and flowers in our gardens from which the bees can get their food. This is possible with flower seeds that we can buy in garden centers. Shrubs such as the broom, butterfly bush, mahogany and the rose are also important for bees. Less known, but certainly so important are the trees that provide the bees with food!
Food for bees
To help the bees it is important to have a large variety of plants. The bee wants to collect fresh pollen throughout the season, so it is important to have plants that bloom throughout the season. A flowering of flowers from early spring to late autumn is of great importance to the bee.
Fruit trees for pollen
Fruit trees provide beautiful blossoms and delicious fruit. In addition, the trees provide nectar and pollen for bees. Think about:
Besides the fruit trees there are a few important species for bees in order of flowering time; the willow, maple, horse chestnut, acacia and lime. By planting trees that are sought after by bees, we can contribute to improving their living conditions and take advantage of them ourselves.
Help the bees by planting a BabyTree in your garden!
The graft is standard in a nice box, which contains various information about the tree. The Baby Tree can be personalized in different ways, ideal as a promotional gift or give away!
Inquire about the possibilities for your brand to shine on this sustainable gift, please contact our sales team.