Within the promotional industry, the PPP is thé industry association of the Netherlands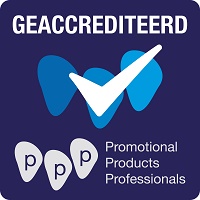 The PPP is the recognised voice of the industry and the point of contact for all those involved.
The goal of the PPP is to professionalise, develop and train the industry. Members of the PPP are distributors and suppliers of promotional products, business gifts and Christmas presents. The PPP is an independent organisation, run by motivated managers from the industry.
The member companies can prove themselves to the PPP by being accredited on various pillars. In addition to meeting the basic conditions, these pillars consist of: Social business & sustainability, knowledge and skills and commitment to the industry.
Since May 2022, we have obtained the PPP Accreditation Certificate. This means we meet the requirements for PPP membership. We are proud to be part of the PPP and the PPP seal of approval is displayed on our wall.